CG Activities Europe
08 Oct 80 – 07 Dec 80
01 Feb 94 – 30 Jun 95
Electronics Engineering Center
01 Nov 68 – 30 Apr 70
01 Jan 73 – 31 Mar 74
Loran Station-A
Technical Assistance Detail,
Manila, Philippines
01 Jun 73 – 31 Dec 74
Loran Station-C Chain, North Pacific
*11 Oct 80 – 08 Dec 80
Participating Units:
CG LORSTA Attu
CG LORSTA Narrow Cape
CG LORSTA Port Clarence
CG LORSTA St. Paul
CG LORSTA Station Kodiak
Loran Station-C Chain, Southeast Asia
01 Sep 69 – 28 Feb 71
Participating Units:
Southeast Asia Section Office
CG LORSTA Sattahip
CG LORSTA Tan My
CG LORSTA Con Son
CG LORMONSTA Udorn
Section, Southeast Asia
01 Jan 72 – 31 Dec 72
Participating Units:
CG LORSTA Sattahip
CG LORSTA Tan My
CG LORSTA Con Son
CG LORMONSTA Udorn
CG LORSTA Lampang
(01 Jan 72 – 27 Mar 72)
Senior Coast Guard Office
Southeast Asia Section Office
Loran Station-C Chain, Southeast U.S.
01 Jun 82 – 08 Feb 83
Participating Units:
CG LORSTA Malone
CG LORSTA Grangeville
CG LORSTA Raymondsville
CG LORSTA Jupiter Inlet
CG LORSTA Carolina Beach
Loran Station Attu
01 Jan 85 – 31 Dec 85
Loran Station Cape Atholl
01 Sep 70 – 30 Sep 70
15 Jun 73 – 30 Nov 73
Loran Station Cape Christian
01 Sep 70 – 31 Oct 70
15 Jun 73 – 30 Nov 73
Loran Station Estartit
01 Apr 70 – 30 Apr 70
Loran Station Iwo Jima
01 Jun 73 – 31 Dec 73
Loran Station Jupiter Inlet
09 Jun 72 – 21 Jul 72
Loran Station Kargaburun
*31 Mar 84 – 22 Apr 85
Loran Station Kure Island
*11 Dec 86 – 29 May 89
Loran Station Lampang
28 Mar 72 – 13 Dec 72
Loran Station Matratin
01 Apr 70 – 15 May 70
Loran Station Middletown
*01 Aug 84 – 11 Jul 85
Loran Station San Mateo Point
21 Jan 71 – 20 Jan 73
Loran Station Simeri Crichi
01 Apr 70 – 30 Apr 70
Loran Station St. Paul
01 Apr 63 – 30 Apr 63
*08 Nov 79
*20 Oct 02 – 23 Oct 02
Loran Station Tok
01 Jul 90 – 09 Jul 90
01 Jan 98 – 31 Dec 98
Loran Support Unit, Wildwood
01 May 97 – 31 Jul 00
22 Jul 00 – 31 Jul 03
Far East Section
*01 Oct 92 – 31 Jul 93
Electronics Engineering Center
01 Sep 87 – 28 Feb 91
01 Aug 93 – 31 Aug 95
Loran Support Unit Wildwood
16 May 97 – 23 Oct 99
Training Center Governors Island
01 Jan 73 – 01 Jul 75
01 Jul 76 – 10 Jul 76
01 Sep 84 – 01 May 87
Loran-A Technical Assistance Detail
Manila, Philippines
01 Jan 75 – 31 Dec 77
Group Sandy Hook
(LORAN Station under Group)
02 Jul 76 – 05 Jul 76
Loran-C Chain Central Pacific
*01 Jan 87 – 31 Aug 88
Loran-C Chain North Pacific
01 Jan 85 – 31 Dec 85
Loran-C Chain Southeast Asia
19 Mar 75 – 03 Oct 75
Participating Units:
Southeast Asia Section Office
LORSTA Sattahip
LORSTA Lampang
LORMONSTA Udorn
Loran-C Chain South Central
01 Feb 90 – 30 Apr 91
Participating Units
LORSTA Boise City
LORSTA Gillette
LORSTA Searchlight
LORSTA Las Cruces
LORSTA Raymondville
LORSTA Grangeville
LORSTA Malone
Loran-C Test Facility Caribou
01 Aug 74 – 01 Apr 77
Loran-C Station Adak
24 Oct 77 – 26 Oct 77
Loran Station Attu Island
25 Jan 77 – 01 Mar 77
10 Jul 82 – 11 Aug 82
01 Apr 87 – 29 Feb 88
*20 Jul 90 – 01 Jun 91
*01 Jan 95 – 31 Dec 95
*01 Jul 00 – 01 Jul 01
Loran Station Baudette
01 Jan 80 – 15 Jul 82
Loran Station Cape San Juan
01 Sep 78 – 31 Mar 80
Loran Station Cape Sarichef
01 Aug 78 – 07 Jul 79
Loran Station Caribou
01 Sep 81 – 31 Dec 82
Loran Station Carolina Beach
*01 Jul 96 – 30 Sep 96
01 Jan 99 – 31 Dec 99
Loran Station Dana
23 Nov 74 – 05 Mar 75
01 Jan 77 – 31 Dec 77
Loran Station Estartit
15 Dec 76 – 17 Sep 77
Loran Station George
01 Sep 76 – 15 Mar 77
*18 May 80 – 12 Jun 80
*02 Nov 87 – 29 Jan 88
01 Jan 00 – 31 Dec 00
Loran Station Gesashi
01 Sep 75 – 31 Mar 76
01 Jun 77 – 31 Jan 78
*07 May 88 – 02 Nov 88
*01 Jul 89 – 30 Apr 90
Loran Station Havre
*01 Aug 90 – 31 May 94
*01 Mar 94 – 31 Jan 99
Loran Station Hokkaido
*08 Oct 83 – 27 Aug 84
*04 Apr 85 – 24 Feb 86
*01 Jul 89 – 30 Apr 90
Loran Station Iwo Jima
*01 Jul 89 – 30 Apr 90
Loran Station Johnston Island
29 Jan 76 – 20 May 76
*01 Jan 87 – 30 Aug 88
*01 Sep 91 – 30 Jun 92
Loran Station Jupiter Inlet
01 Jan 76 – 31 Dec 76
Loran Station Kargaburun
01 May 82 – 30 Apr 83
*01 Oct 92 – 13 Sep 93
Loran Station Kodiak
01 Jan 85 – 31 Dec 85
*01 Jul 88 – 01 Jul 90
*01 Jan 95 – 31 Dec 95
Loran Station Kure Island
12 Feb 77 – 10 Feb 78
01 Apr 82 – 31 Dec 82
*17 Feb 85 – 11 Feb 86
*01 Jan 87 – 30 Aug 88
*30 May 89 – 20 Nov 90
*01 Apr 92 – 30 Jun 92
Loran Station Lampedusa
01 Sep 79 – 30 Sep 80
*01 Jul 86 – 15 Feb 88
Loran Station Marcus Island
14 Jul 77 – 26 Oct 77
*25 Oct 84 – 24 Oct 85
*25 Oct 85 – 24 Oct 86
*01 Nov 86 – 15 Oct 87
*01 Jul 89 – 01 Apr 90
*01 Apr 92 – 01 Feb 93
Loran Station Middletown
11 Mar 76 – 26 Apr 77
Loran Station Nantucket
01 Jan 82 – 31 Dec 82

Loran Station Narrow Cape
01 Jan 86 – 30 Jun 87
*01 Sep 89 – 01 Jul 90
Loran Station Port Clarence
10 Apr 77 – 30 Jun 77
20 Sep 77 – 16 May 78
*27 Aug 98 – 04 Sep 98
Loran Station San Salvador
01 Oct 80 – 14 Jan 81
Loran Station Sellia Marina
01 Mar 78 – 31 Oct 78
29 Oct 85 – 05 Jan 87
Loran Station Seneca
01 Oct 78 – 01 Jul 80
01 Jun 90 – 24 Aug 91
Loran Monitor Station Shetlands
01 Oct 82 – 30 Sep 83
Loran Station Sitkinak Island
09 Mar 75 – 30 Aug 75
17 Apr 76 – 22 Aug 76
11 Jan 77 – 01 Mar 77
08 Apr 77 – 06 Jun 77
Loran Station St. Paul Island
23 Jan 77 – 13 Mar 77
10 Apr 77 – 30 Jun 77
01 Jan 85 – 31 Dec 85
*26 Feb 93 – 27 Feb 93
Loran Station Sylt
01 Feb 76 – 01 Feb 77
*07 Oct 85 – 12 Jun 86
Loran Station Tok
27 Aug 76 – 31 Dec 77
25 Jun 82 – 31 Dec 82
*01 Jan – 31 Dec 97
*01 Jan 99 – 30 Jun 01
Loran Station Upolu Point
*20 Mar 83 – 01 Jul 85
*01 Jan 87 – 30 Aug 88
*30 Jun 92 – 31 Dec 92
Vietnam Service Medal
Authorized by Executive Order 11231, 8 July 1965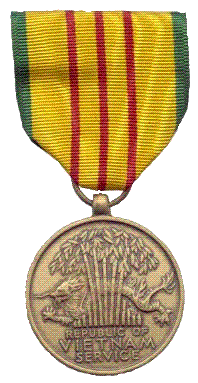 The Vietnam Service Medal was awarded to members of the armed forces, who served in Vietnam, its contiguous waters, or airspace, between 15 March 1962 and 28 March 1973. Personnel serving in Thailand, Laos or Cambodia, in direct support of operations in Vietnam, during this period, are also eligible for the medal. To qualify for award of the Vietnam Service Medal an individual must have met one of the following qualifications:
- Be attached to or regularly serve for 1 or more days with an organization participating in or directly supporting or aboard a naval vessel directly supporting military operations.
- Actually participate as a crewmember in one or more aerial flights into airspace above Vietnam and contiguous waters directly supporting military operations.
- Serve on temporary duty for 30 consecutive days or 60 nonconsecutive days, except that the time limit may be waived for personnel participating in actual combat operations.
TIGHT REIN, BANGKOK, THAILAND
01 Jan 66 – 31 Aug 66
Participating Units
Coast Guard Construction Detachment
01 Jan 66 – 31 Aug 66
CDR, SOUTHEAST ASIA SECTION, US
COAST GUARD BANGKOK, THAILAND
01 Aug 66 - 28 Mar 73
CG LORSTA CON SON
02 Sep 66 - 22 Jan 73
CG LORSTA TAN MY
13 Jul 69 - 25 Jan 73
CG LORSTA LAMPANG
18 Aug 66 – 28 Mar 73
CG LORSTA SATTAHIP
29 Aug 66 – 28 Mar 73
CG LORMONSTA UDORN
15 Sep 66 – 28 Mar 73
CG LORSTA ADAK
(Prior to 31 Dec 62)

CG LORSTA AGUNI

CG LORSTA AMCHITKA

CG LORSTA ANGUAR

CG LORSTA ATAFU ISLAND

CG LORSTA ATTU

CG LORSTA BAKER ISLAND

CG LORSTA BATAAN

CG LORSTA BATTLE HARBOR

CG LORSTA BIORKA

CG LORSTA BONA VISTA

CG LORSTA CANTON ISLAND

CG LORSTA CAPE ATOLL
(AKA DOPE I)

CG LORSTA CAPE CHRISTIAN
(AKA DOPE II)

CG LORSTA CAPE SARICHEF

CG LORSTA CATADUANES

CG LORSTA COCOS ISLAND

CG LORSTA CON SON
CG LORSTA ENIWETOK

CG LORSTA ESTACA DE VARES

CG LORSTA ESTARTIT
(Prior to 1 Jun 67)

CG LORSTA FREDERICKSDAHL

CG LORSTA FRENCH FRIGATE SHOALS
CG LORSTA GARDNER ISLAND

CG LORSTA GEHASHI

CG LORSTA GRAND TURK ISLAND
CG LORSTA GUAM
(Prior to 30 Mar 67)
CG LORSTA HOKKAIDO

CG LORSTA ICHI HANARE

CG LORSTA IWO JIMA

CG LORSTA JOHNSTON ISLAND

CG LORSTA KARGABURUN

CG LORSTA KURE ISLAND

CG LORSTA KWAJALEIN
(AKA KWADACK)

CG LORSTA LAMPANG

CG LORSTA LAMPEDUSA

CG LORSTA MAJURO ATOLL

CG LORSTA MAKIN ATOLL

CG LORSTA MAPIA

CG LORSTA MARCUS ISLAND

CG LORSTA MATRATIN

CG LORSTA MATSUMAE

CG LORSTA MIHO

CG LORSTA MIYAKO JIMA

CG LORSTA MOROTAI ISLAND
CG LORSTA NAULO POINT

CG LORSTA NIIGATA
CG LORSTA PALAU

CG LORSTA NOMAIKE

CG LORSTA OCEAN CAPE

CG LORSTA OSHIMA

CG LORSTA PORT CLARENCE

CG LORSTA PORT-AUX-BASQUES

CG LORSTA PULO ANNA



CG LORSTA PUSAN

CG LORSTA SAIPAN ISLAND
(Prior to 30 Mar 67)

CG LORSTA SAN SALVADOR
(Prior to 20 Jun 62)

CG LORSTA SARDINIA
(Prior to 20 Jun 62)

CG LORSTA SATTAHIP

CG LORSTA SITKINAK ISLAND

CG LORSTA SOUTH CAICOS

CG LORSTA ST. BRIDES

CG LORSTA ST. GEORGES ISLAND

CG LORSTA ST. MATHEWS ISLAND

CG LORSTA ST. PAUL


CG LORSTA SULUAN

CG LORSTA SYLT
(Apr 88 to Jun 89)

CG LORSTA TALAMPULAN ISLAND

CG LORSTA TAN MY

CG LORSTA TARUMPITAO POINT

CG LORMONSTA TWILLINGATE

CG LORMONSTA UDORN

CG LORSTA ULITHI ATOLL

CG LORSTA UNMAK ISLAND

CG LORSTA WAKE
(except Commanding
Officer between May 67 and May 73)

CG LORSTA YAP

CG LORSTA YONAKUNI